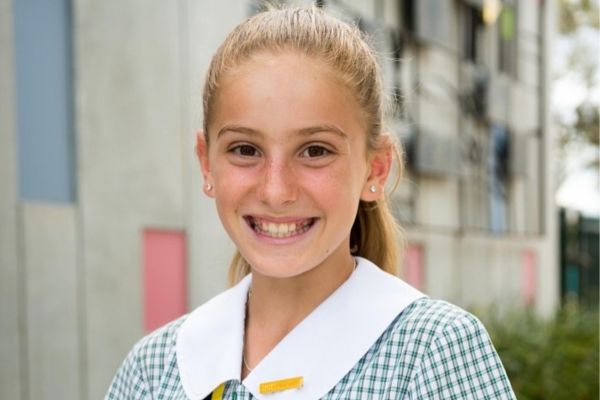 A group of 41 primary school students celebrated their sporting success with former Hockeyroo and gold medallist Kellie Miller at the seventeenth annual Sydney Archdiocesan Primary Sports Awards. Among the recipients was Mater Dei Catholic Primary Blakehurst Year 6 student Alexandria.
Each student was presented with a medallion by Miller at a ceremony held at St Felix' Catholic Primary Bankstown on Wednesday, 29 November.
The awards recognise young athletes from a pool of 116 Catholic primary schools who have excelled at sports during the school year.
To receive an award, students must have represented the Sydney Archdiocese in a NSW Catholic Primary Schools (NSWCPS) MacKillop team or NSW Primary Schools Sports Association (NSWPSSA) State team and demonstrated a high level of sporting achievement in their schools.
Field dreams
St Vincent's Catholic Primary Ashfield Year 4 student Stephanie Bruzzese was a member of three NSWPSSA teams this year – for Athletics, Cross Country and Swimming.
She is the only student at a Sydney Catholic school to make three state teams in the one calendar year. The feat earned her an additional Outstanding Achievement Award.
Persistence and resilience goes a long way.
Our Lady of Fatima Caringbah students Mia Toohey and Jack Waide, and Mater Dei Blakehurst student Alexandria Kalamvokis received the prestigious award for a third time this year.
All three students were NSWPSSA Cross Country team members this year. Jack was also selected to the NSWPSSA Athletics team and will compete in the 1500m event at the Pacific School Games in December.
Two Sports Service Awards were also presented to St Finbar's Catholic Primary Sans Souci Principal Lorraine Adams and Christ the King Catholic Primary Bass Hill teacher Fabrizio Fieni. The award recognised the efforts of staff, parents and volunteers who have contributed to the development of sport at Sydney Catholic primary schools.
Sporting advice: 'Resilience goes a long way'
Guest speaker Miller is a 2014 World Cup silver and Commonwealth Games gold medallist.
She told students at the ceremony that her dream of becoming a Hockeyroo was realised in 2011 after playing the sport from age 4.
Miller (formerly White) also described career highs and lows. She ruptured the anterior cruciate ligament in her knee three times, and came back from the first injury to medal in major tournaments in 2014.
Miller's advice to the young sportsmen and women was to aim for balance, be ready to seize opportunities when they are given, and be resilient in the face of setbacks and injuries.
"You may not always be on top of your game and you may not be selected for that team – but persistence and resilience goes a long way," she said. "Never give up on a dream that sets your soul on fire."
Another record year
Sydney Catholic Schools' Acting Sydney Archdiocesan Primary Sports Coordinator Liz Reakes said the ceremony celebrated the exceptional sporting talent of students – this year from 28 Sydney Catholic schools.
"This year has seen seven of the 41 recipients were successful in their selection in two NSW state teams, which is a huge achievement," she said.
"The students have represented across 13 different sports which demonstrates the array of sporting opportunities offered to them in our system."